Sage 200 Online - Delivering online innovation
The world is changing
New technologies such as mobile and cloud are defining the way you run your business. Many businesses are moving their IT to the cloud. But what is cloud computing, and why has it created such a buzz?
When you use cloud computing, you access your company data and applications online anywhere and anytime. Cloud computing means that instead of IT being equipment and software you buy and own, it becomes a service – or a set of services – you for pay each month.
Some companies use the cloud for practically everything. Others use it for specific business functions, such as helping their sales team log and keep track of calls, whilst out in the field.
However customers choose to use the cloud, it can bring extra flexibility, mobility and security to their company, and that's why it's worth investigating.
The world is changing. More and more customers are putting their whole business in the cloud and going online, from their front end processes to their back end systems. That's why we've spent the last couple of years creating the next generation of products to ensure that when customers want to move to the cloud, they have that choice. 
Businesses are moving to the cloud to take advantage of the reduced investment required and to give them flexibility to pay monthly
With 30 years of expertise in accounting software, we've designed our next generation of online products to give you more freedom to run your business online, accessing critical information anywhere, anytime. Sage has embraced this new technology and developed new feature rich solutions for businesses wanting their accounts in the cloud, even if you have more complex requirements. We know that your software is vital to running your business profitably, so we're here to help you deliver better Return on Investment (ROI) and make your business more profitable as well as giving you more mobility, flexibility and security for how you run your business.
Sage 200 Online is a new cloud-based business management solution for growing businesses, that's more than just accounts software. The flexibility of Sage 200 Online means it can cater for businesses from 10 to 200 employees and up to £50m turnover across all business sectors. If this matches your business profile, you might want to consider Sage 200 Online now or in the future as it delivers a greater depth of functionality for more complex businesses and you can pay monthly, enabling you to get up and running quickly. Delivering a three-tiered nominal accounting structure linking to specific jobs or projects, stock traceability across multiple locations and the ability to submit and allocate timesheets and expenses to projects. It also gives you the ability to track costs and manage data via our workspaces tool. Sage 200 Online provides you with an online solution that's hosted on the Microsoft Windows® Azure platform, providing you with the security you need to sleep soundly at night.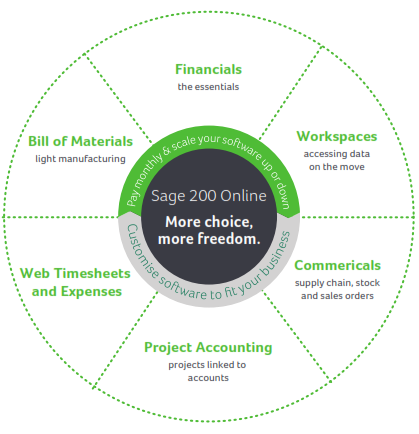 Save money if you're upgrading your hardware 
A key point at which you may consider moving to an online solution would be when you're looking to upgrade your hardware or IT infrastructure. An online solution could save you significant amounts of money. In comparison to an on premise offering, you wouldn't need a server (as the hosting effectively does this for you) and therefore would save on the installation costs. You wouldn't need to purchase SQL or pay the associated ongoing costs.
Depending on what you already have in place, you could save significant amounts of money upfront and ongoing with an online solution.

 Improve staff flexibility and facilitate remote working 
With your software in the cloud, you gain a great deal of flexibility. Instant, anytime, anywhere access, meaning you can query, report and gain insight into your data via a wide range of devices.

 You can pay monthly 
Sage 200 Online is ideal for small to medium businesses that want the flexibility to pay for their software on a monthly basis. You can scale up as quickly as you need to, so the software grows and adapts with you.
Paying monthly also gives you control to categorise this as an operational expense, meaning that if budget shouldn't be an issue if you want to get started quickly.

 It's flexible to meet your business needs 
Sage 200 Online is ideal for seasonal businesses that need to easily scale up or deliver software needs to meet the peaks and troughs of demand.
It can also be tailored to reflect your business processes with simple configurations or customisations that are just for you. You can go as far as you like, with easy to use applications such as workspaces, customised to your role so you have your own dashboard to refer to.

 Share data across your organisation
Because Sage 200 Online links with other areas of your organisation it gives people across the whole of your business access to accurate, timely information. Role based set up gives you the ability to define the functions, features and reports that individual users have access to, allowing you to control who sees what.

 Integrates with your business applications 
If you want to go one step further you can integrate Sage 200 Online with applications such as Windows 8® and Office 365, so you can have your whole office in the cloud.
Or you can choose to connect with your existing on premise applications, so you don't have to move everything to the cloud if you don't want to.
If you have other business applications that you want to connect to Sage 200, we can help. We will look at what you need and advise the best way to get your whole business working in the cloud as quickly as possible.

 Sage securely deliver your software in conjunction with Microsoft
Sage worked in conjunction with Microsoft to build the best online solution possible for your business. The Sage 200 Online application runs on the Microsoft Windows® Azure platform, which is hosted from data centres managed and operated by Microsoft Global Foundation Services (GFS). These data centres comply with key industry standards, such as ISO/IEC 27001:2005 for security and reliability.
The datacentres are based in Europe and are managed, monitored, and administered by Microsoft operations staff who have years of experience in delivering the world's largest online services. In addition to data centre, network, and personnel security practices, Windows® Azure incorporates security practices at the application and platform layers to enhance security.

 You get automated data back ups as standard 
We offer automated data back ups as standard with Sage 200 Online, so you don't need to worry about keeping copies of your data and you always have the information you need to hand. You can of course download additional copies of data at your leisure for additional peace of mind.
This could also save you time, effort and money if you are currently doing this in house or paying a third party to do this for you.

 Sage guarantee 24-7 availability 
Sage's team of experts are working round the clock to monitor the service you're getting from us. We make sure that the platform and software are available 24-7 and Sage guarantee 99.9% service availability within their terms and conditions.