The FRED System is the most widely used recycling software in the UK today. Our software can be adapted to most recycling environments providing a flexible platform which incorporates all the features a modern recycling facility requires. Additional functionality can be added by our team of developers should the need arise, which ensures the system is constantly evolving and growing.


"We rely on FRED5 to move our metal"
Weighbridge Integration
The weighbridge can be linked to the FRED System providing a convenient and secure method of capturing the weights of loads passing through the site.

ANPR
Automatic Number Plate Recognition can be utilised to further speed up the passage of vehicle movements across the weighbridge.
Pricing
Our comprehensive Pricing module allows dynamic sales and purchase pricing using Price Bands, Sliding Scale (including cumulative), Market Pricing and Loyalty Pricing as well as the ability to set individual prices per customer or supplier.
One Account Principle
FRED just creates an account which you can buy from and sell to if desired, multiple collection/delivery addresses can be attached to an account.
Contracts
Whether based on agreed quantities, agreed number of loads or simply on an ongoing basis, our extensive Contracts module has it covered and with the ability to link in to our Sliding Scale/ Market Pricing feature, you can be confident once set up your Contracts will take care of themselves.
Paying Your Customers
We have teamed up with some major pre-paid card providers in the UK to allow you the flexibility to pay your customers in the most convenient way. For pre-paid card payments you can choose from Metal Cash Card, Bread and Incendia. For BACS payments, as well as integrating with all the UKs major banks, we now work with Telleroo to allow faster, hassle-free payments. Payments can also be made by cheque, with the system printing the cheques if required.


"We love it – we'd recommend FRED5 to anyone!" 
 Stock Control
With the ability to record your stock by weight, units or a combination of the two, our Stock Control module will record all movements and balances. Options allow stock to be stored by company, site, location and individual container. You'll be able to transfer your stock between grades and even between your sites. Plus with our new Stock Take feature, you'll always have a good insight into your current stock levels. Full retrospective stock reporting is also available.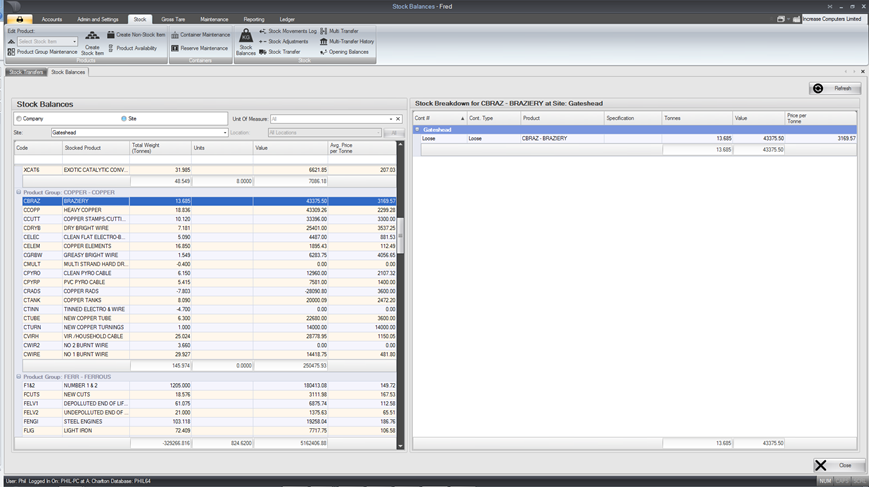 Document Production, Billing and Invoicing
Self Bills, Invoices, Transfer Notes and Weighbridge Tickets to name a few. With so many different documents to produce, layout modifications are handled with ease by our software. You can print, reprint, email or export your documents or Self Bills and Invoices can be simply matched if no financial documentation is needed.
 Customised Layouts
Make your business stand out with customisable layouts. You can also specify individual layouts for individual customers and suppliers.
 Waste Reports
EWC reports can be produced in a variety of ways from FRED - By Postcode - By Region or by Individual product
ID Capture
Compliance with the Scrap Metal Dealers Act of 2013 is managed with full ID capture, secure storage and renewal reminders.
  Merchanting
Merchant, truck trading, brass plating loads can be booked linking supplier, customer and haulier together in a convenient way to use format.

"FRED5 is a crucial part of our growing  business.  The functionality of the software is combined with excellent customer service."
  Ticket Attachments
Pictures and documents can be attached to loads to allow for proof of material type or loading details.
"FRED5 ensures we can provide a higher level of customer service – generating stronger relationships with our clients"