What is Spindle Document Capture?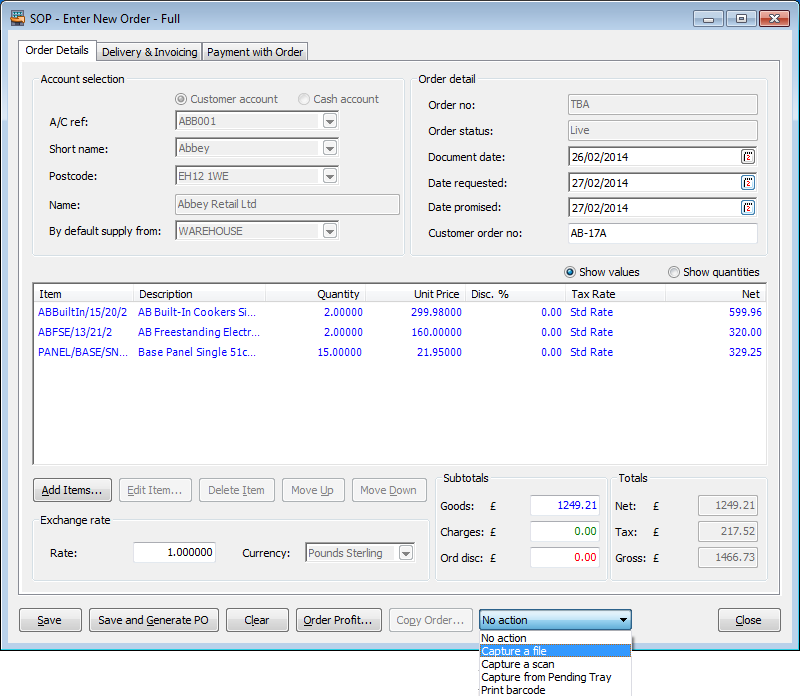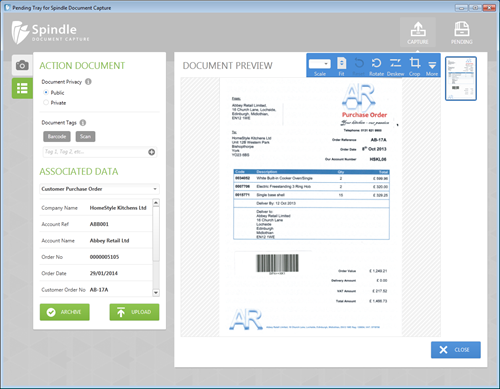 Spindle Document Capture is a document capture software solution to allow you to capture, archive and view documents directly from Sage 200. Whenever there's a need in your business for capturing, archiving and viewing documents, Spindle Document Capture will take care of it and help to transform your document management processes.
Benefits of Spindle Document Capture
Sage 200 integration
Spindle Document Capture integrates into many areas of Sage 200 including Sales Order Processing, Purchase Order Processing, Sales Ledger, Purchase Ledger, Nominal Ledger, Cash Book and Project Accounting. You can capture, archive and view documents directly from within Sage 200.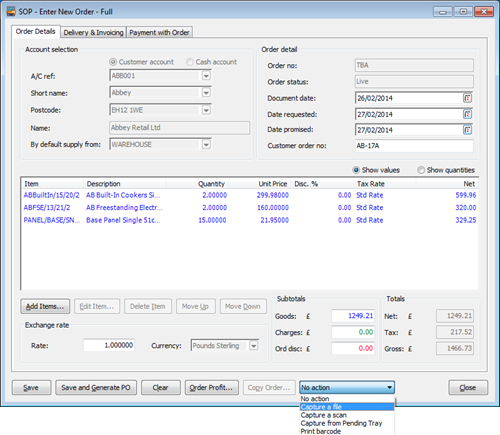 Reduced storage space
Documents are electronically stored instead of using up valuable office space and can be destroyed when scanned.
Speed up work flow
By using specific document types Spindle Document Capture instantly associates the relevant account/transaction data to the document.
Capture documents outside Sage 200
Documents can be scanned in by non-Sage 200 users, saving time in your accounts department e.g. batches of signed delivery notes can be scanned directly in the warehouse and can be automatically archived back in to Sage 200 against the correct transactions.
Quick and easy archiving – scan batches of documents
Save time by scanning batches of documents in one go, including multiple page documents. By using barcodes, Spindle Document Capture will automatically recognise the length of each document.
Improve accuracy
Reduce the chance of misfiling or losing documents and find relevant documents instantly.
Instant document viewing outside Sage 200
The standalone Document Search tool for all types of documents and can be used by both Sage 200 users and non-accounting staff to view documents, giving greater accessibility to other departments.
Reduced environmental impact
The amount of paper waste can be significantly reduced when using digital documents instead of paper. Not only will it reduce your carbon footprint, but also bring savings on paper recycling fees.
Spindle Professional integration
Spindle Document Capture instantly archives all your outgoing documents for immediate viewing within Sage 200 or through the convenient Document Search tool. All your incoming and outgoing documents will be stored in the same location. With a click of a button you will be able to view the sales quote, purchase order, despatch note, sales invoice and even your order query correspondence.
Spindle Professional
Spindle Professional is an outgoing document solution that, with just one click, it sends documents to multiple locations by email, fax and print. Documents sent by Spindle Professional can be branded to your company, including promotional offers, various designs and even relevant terms & conditions, depending on how and what you send out.
For more information about how Spindle Professional can improve your document delivery process, click here.
Customer credentials
"Spindle Document Capture does exactly what it promises to do. It's simple and easy to use and has helped us save a significant amount of time searching for documents. Now everywhere that I can see the transaction in Sage 200, I can instantly find the relevant documentation."
Katie Bates, Assistant Accountant at SNF (UK) Ltd
Leading producer of Water Soluble Polymers for: Water Treatment, Effluent Treatment, Sewage Treatment and more.
"Spindle Document Capture has made it so easy now to find the documents you need. People don't need to try to remember or second guess, they can look it up within Sage 200! This further reduces stress and errors."
Rob Little, External Consultant for VW Heritage
UK's largest air-cooled VW specialist, supplying quality Volkswagen restoration and replacement parts for Beetles, Buses and Ghias, as well as stocking parts for the water-cooled models.
"By capturing data, storing it against sales orders and tagging it independently, our documents have become far easier for all members of staff to find. Spindle Document Capture has also allowed us to capture additional documents that we previously haven't had a method of storing."
Tom Rawlinson, Sales & Operations Support Manager at Greentree Shercon
Provider of top quality precision masking and protection products and materials which are approved and used within industries such as aerospace, automotive, electronics, medical and metal finishing in the UK and worldwide.