Fred - Scrap Metal Software - Recycling Software

The FRED System is the most widely used recycling software in the UK today. Our software can be adapted to most recycling environments providing a flexible platform which incorporates all the features a modern recycling facility requires. Additional functionality can be added by our team of developers should the need arise, which ensures the system is constantly evolving and growing.


"We rely on FRED5 to move our metal"
Weighbridge Integration
The weighbridge can be linked to the FRED System providing a convenient and secure method of capturing the weights of loads passing through the site.

ANPR
Automatic Number Plate Recognition can be utilised to further speed up the passage of vehicle movements across the weighbridge.
Pricing
A comprehensive pricing module allows pricing by bands or individual prices per customer/supplier, contract prices or our new market prices module.
One Account Principle
FRED just creates an account which you can buy from and sell to if desired, multiple collection/delivery addresses can be attached to an account
Postcode lookup
Postcode software can be linked to give address lookup from a supplied postcode.

Cheque Production
Customer payments can be made by cheque and the system will print the cheques for you if required.
Pre Paid Card Integration
We have teamed up with some of the major pre paid card providers in the UK and are currently the only software integrating with them. MetalCashCard is currently active with Incendia and Tuxedo under development.


"We love it – we'd recommend FRED5 to anyone!"
Self Billing / Document Matching
Self Bill production with customisable layouts are effortlessly handled by the system. Customer/Supplier Invoice/Self Bill matching is also built in.
Waste Reports
EWC reports can be produced in a variety of ways from FRED - By Postcode - By Region or by Individual product
ID Capture
Compliance with the Scrap Metal Dealers Act of 2013 is managed with full ID capture, secure storage and renewal reminders.
Invoicing
Sales Invoicing from deliveries with adjustments for received weights and deductions can be recorded and produced.
Merchanting
Merchant, truck trading, brass plating loads can be booked linking supplier, customer and haulier together in a convenient way to use format.

"FRED5 is a crucial part of our growing  business.  The functionality of the software is combined with excellent customer service."
Stock Control
A full stock control module is provided which will record all movements and balances. Options allow stock to be stored by company, site, location and container. Full retrospective stock reporting is also available.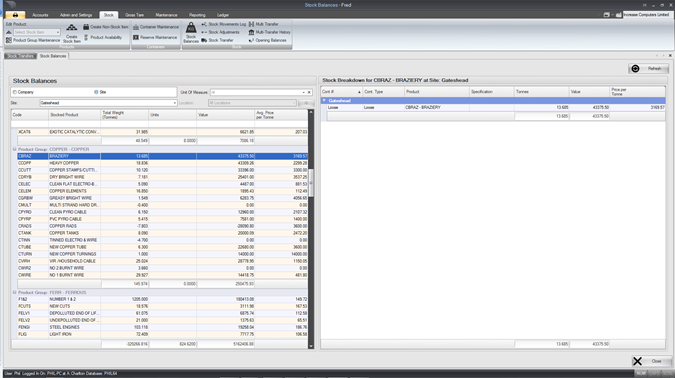 Ticket Attachments
Pictures and documents can be attached to loads to allow for proof of material type or loading details.
"FRED5 ensures we can provide a higher level of customer service – generating stronger relationships with our clients"